British Government lifts Tunisia travel ban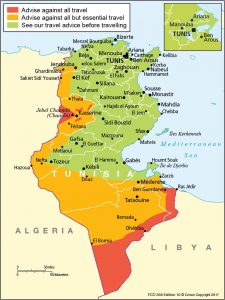 On 26th July 2017 the British Government lifted the travel status of Tunisia from "Essential Travel Only" to "Safe for Tourists to Visit" in most of the country. Alistair Burt MP said, "The government has today changed its travel advice for Tunisia. It no longer advises against travel to most of the country, including Tunis and the major tourist destinations."
"This update reflects our latest assessment that the risk to British nationals in Tunisia has changed. This is in part due to the security improvements that the Tunisian authorities and tourist industry have made, with support from the UK and international partners."
Yacht Services Tunisia have been supporting superyachts in Tunisia for many years and now welcomes existing and new clients to once again visit this independent destination.
Based in Port Yasmine, Hammamet with office in Bizerte and Gammarth, Yacht Services Tunisia are located well within the 'green' safe zone and can offer duty free fuel, expert customs and immigration clearance, provisioning, tours, excursions, air travel and transfers.
The English, French and Itaian speaking team are perfectly placed in the nearest non EU country for the Mediterranean superyacht community. Port Yasmine offers berths up to 100m, Bizerte, 110m and Gammarth 35m.
Kim Williams, co-founder of Yacht Services Tunisia commented, "We are very happy to invite the superyacht community back to Tunisia. The safety of our clients is of the upmost importance to the team and I, and although we have not experienced any issues in the areas of Tunisia where we are based, it is wonderful to have the reassurance for our clients from the British government. "
"The Tunisian government are keen to support tourism and we have one of the quickest customs clearance departments outside the EU. The duty free fuel is of the highest quality and our team thrives on making life as easy as possible for visiting superyachts. Rest assured we do all the leg work while the Captain, crew and guests either relax on board or choose to experience and explore the culture in this wonderfully diverse country."